877-STOCKCAR RACING
STOCK CAR EXPERIENCE
Born in the days of prohibition, what began as "good old boys" transporting illegal moonshine through twisting backroads, at speeds exceeding 120mph to elude authorities, evolved into weekend races to showcase who had the fastest car. In 1948 Bill France formally organized the popular competition in creating the National Association of Stock Car Auto Racing (NASCAR).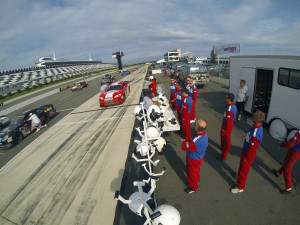 There's a reason that stock car racing is the number one spectator sport in America. The pulsating power as tons of metal and rubber roar past in a symphony of gears, grinds, brakes and the occasional crash is addictive.
Have you ever wondered what it feels like? Being in that race car speeding around the track?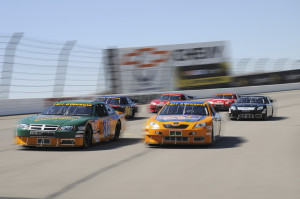 877StockCar Racing Experience allows you the opportunity to do just that. I arrived at Pocono Raceway and was surprised to see so many people suiting up to either ride or drive. On this particular Monday, there were 90 drive and 45 rider experience participants.
After checking in and signing a waiver, I was greeted by Jeff who suited me up. Jeff is retired, lives in Maryland but makes the 3+ hour drive because he enjoys it so much. And he's not the only one. Everyone I spoke with felt the same way. They LOVE their jobs. But they also take their jobs very seriously. There's no joke about safety. In the seventeen years of operating they have had a few minor accidents but no injuries. A fact they are extremely proud of and as well they should be.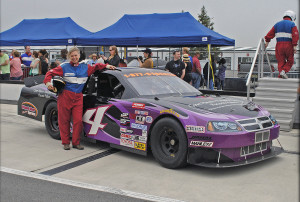 This is a family business started by Jesse Roverana. Jesse began working at the racetrack while in high school and his love for racing grew. He managed the previous driving school and in 1998 with a small loan and putting up the deed to his home, 877-StockCar was born. I asked Jesse what he loved most about this business. His response, "I love the smiles on everyone's face after their experience. And it's not just a smile, it's a SMILE!"
While waiting my turn, the sounds and the smells filled me with such a lively anticipation. The vibration infuses you as cars go rushing by. Chris, my driver, was funny, charming but also very competent. Getting into the car wasn't hard nor was it easy. Once in, strapped, buckled, snapped, wrapped and cinched, with time for a quick smile and a photo, we were off.
As we accelerated, it suddenly hit me, "Oh My! We are going very fast!" We were quickly doing 160mph as we approached the first turn. Around and around we weaved through cars, hugged tight turns and it was exhilarating!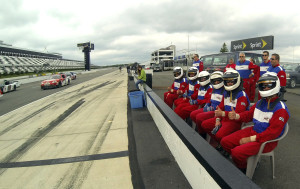 This is an experience not to be missed. But, take note that offerings at 877-StockCar are limited. They operate only 35 days, May through October. Once you decide which package appeals to you, book it!
If you're thinking about Father's Day, this is the perfect gift for Dad as most of those participating are men. Women make up about 10% of the drive experience and 45% of the ride along. Cost for the ride along runs $139 – $278 while the driving experience runs $349 and up depending on how many miles you drive. It's also great to do with friends, a bachelor party, a corporate outing. There are group rates available. And, each drive experience offers a coupon for $200 off a return experience in the same year.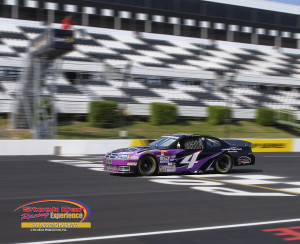 You can also find Drag Racing, Go-Cart and Exotic car experiences. Visit www.877StockCar.com