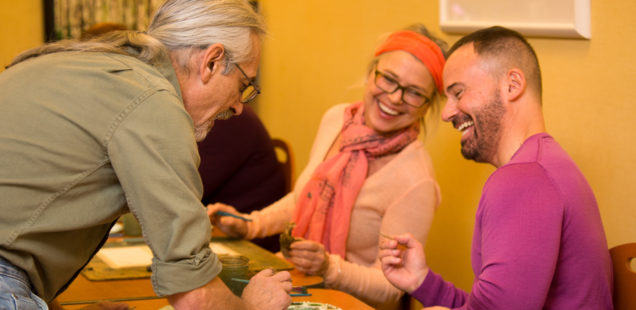 Boomers and the "UnWeekend"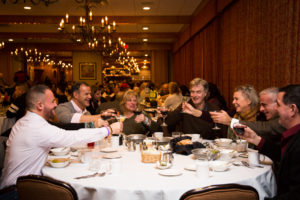 As of 2016, Boomers – those born between 1945 – 1964, make up 40% of this country's population. They also have the time and ability to travel at will.  Boomers love to travel with friends to explore new places and learn new things, especially to meet challenges with their support.
I'm a Boomer, so when eight friends from the New York area were looking for an UnWeekend getaway that offered fun, variety and comfort; I suggested Woodloch.
Here we discovered the AWAY package. AWAY stands for Art, Wine, Adventure and You. And we dove in to all of the offerings.  The wine tasting was fantastic. It was actually a wine and chocolate tasting that not only delighted my palette but taught me something new and something I could bring home to share with friends. It's a little trick on how you hold the wine and chocolate flavors in your mouth, time it just right, to experience the full explosion of its essence. The tasting included four wines, four chocolates, cheese and fresh berries.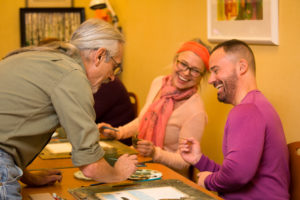 The wine was easy, something we all enjoyed and did not fear. Next we headed to the Watercolor class. Several of us enjoy doing art and welcomed the class while others were maybe not so much afraid as reluctant. This is when sharing with friends takes the edge off. It's frustrating to hear someone say, "I have no creative talent." Most likely a teacher, a parent, sibling or friend long ago instilled that thought; Shame on them.  Through nervous laughter we trusted the enthusiastic and animated instructor, John Leoni, as he guided us step by step along with his personal stories and antidotes. It wasn't long before a beautiful painting began to emerge. They were all amazing! Todd and Lynne were probably the two most reluctant to paint and yet produced two of the most stunning pieces of art. Later at dinner Todd commented on how much he enjoyed the class and would do it again the next day. However, we had something else planned.
Fear is a funny thing. It's a thought that gets into your head and can easily paralyze you. But, with trusted friends by your side, you can face any fear head on. Carol was terrified to zip line. She was open and honest about her fear. Because she was surrounded by loving friends, she had the courage to face and overcome it.
As far as zip lines go, this is a small zip line but it's fast. And after you zip down the hill you then have to leap off a platform to be lowered to the ground. That's not something for the faint of heart. I don't think Carol was the only one who had reservations but she was the only one who was honest about it. Everyone zipped and everyone's adrenaline was pumping! Carol's sense of accomplishment was obvious in her smile after completing the run. In fact, her whole face smiled and radiated her inner strength.
We did art, wine and adventure.  We also enjoyed the nightclub. The food was abundant and good. We had choices that served all of our needs. Our rooms were very spacious and remarkably clean.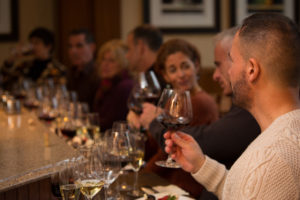 Speaking of service, I don't think you can speak of Woodloch without speaking about its exceptional customer service. People have been working here for years, some 25 and more. They are so happy that it almost makes you think there's something in the water. Woodloch is a happy place. I would imagine it starts with the owners who are clearly present and engaged. You feel like you're invited into their home making us all feel like we now have new friends.
The power of friends to make us laugh, learn something new, push boundaries and face fear is a gift. Celebrating that gift in a happy place with so much to offer so close to home is truly a reward for living in an area that offers an abundance of opportunity to enjoy life to the fullest. Here's to Woodloch. Here's to Friends…. pass the chocolate and the wine, please.