It's Summer – Time for Barbecue!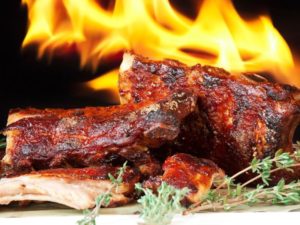 There's a difference between throwing your favorite meat on the grill and true barbecue. What you do in your backyard is called "grilling" – when your meat is placed over a high heat for a short period of time. True barbecue is done slowly, over a low, indirect heat, flavored by the smoking process.
When Columbus landed in the Americas in 1492, he and his fellow Spaniards found native Haitians roasting meat over a grill consisting of a wooden framework resting on sticks above a fire. The flames and smoke rose and enveloped the meat, giving it a certain flavor.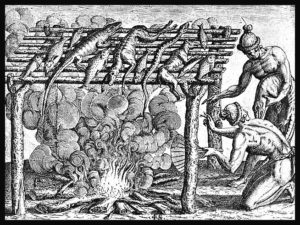 Traditional barbacoa involves digging a hole in the ground and placing some meat covered with leaves and coal, and set aflame. The cooking process takes a few hours, if not days. The result is a very tender and flavorful meat. The different islands and cultures used different spices to create their signature flavors.
Today, that tradition continues. Not all barbecues are buried, but certainly a specific combination of spices creates a signature flavor. Specific wood used for smoking also contributes to its distinct flavor, which is one of the elements that makes open pit barbecue an American favorite. Mesquite, Hickory and other hard woods make a great choice for flavoring meats. Competitions around the country are fierce and highly competitive, especially throughout Texas, Tennessee and other typically southern states.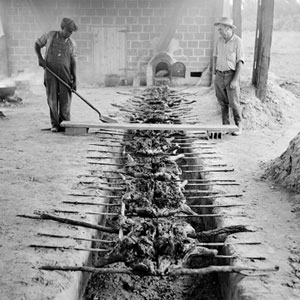 Thankfully, we don't have to travel to Texas for some great barbecue. We have two great Pocono Secret choices for barbecue here in NEPA.
Kundala's Open Pit Barbecue, located at 596 Hamlin Highway, is open 11a-8p – Friday, Saturday and Sunday from May through October.  570.689.7999
Wrangler BBQ is located at the Waymart Hotel, 205 Carbondale Road in Waymart. They are open Thursday, 4-9 and Friday, Saturday and Sunday, 12-9p. 570.488.6585
Congratulations to Joan Clark of Hawley the $100 winner for identifying the location for all eight barns in May's column challenge.  Check out PoconoSecrets.com for the answers. I invite you to continue adding #PoconoSecrets to your beautiful images on social media.