EXACTLY WHERE ARE THE POCONOS?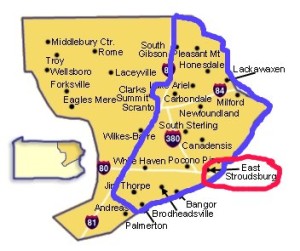 Originally from Connecticut, I spent many years enjoying the natural beauty of Pike and Wayne counties. I often wondered if I was near the Pocono Mountains. There are no signs that welcome you to The Pocono Mountains or to indicate You are now leaving the Pocono Mountains. So where exactly are the Pocono Mountains?
The Pocono Mountains are nestled in the northeast corner of Pennsylvania. They cover 2400 square miles that encompasses four counties: Wayne, Pike, Monroe and Carbon.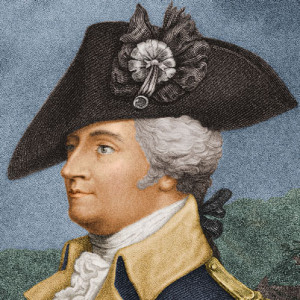 Wayne County was the first to be formed, on March 21, 1798. It was cut from Northampton County and named Wayne County in honor of General Anthony Wayne. Anthony Wayne (January 1, 1745 – December 15, 1796) was a United States Army general and statesman. Wayne adopted a military career at the outset of the American Revolutionary War, where his military exploits and fiery personality quickly earned him a promotion to the rank of brigadier general and the sobriquet of Mad Anthony. 14 other states in addition to Pennsylvania honor General Wayne with a county and Fort Wayne, Indiana is named for him.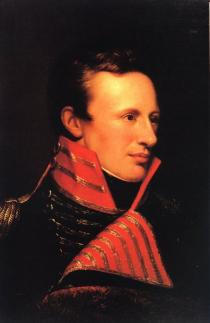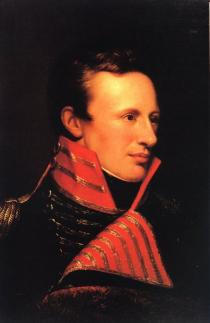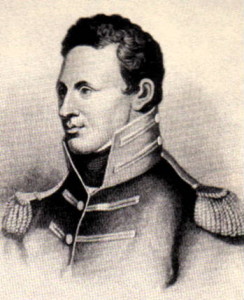 Pike County was established on March 26, 1814 from land in Wayne County and was named in honor of Colonel Zebulon Montgomery Pike Jr (January 5, 1779 – April 27, 1813), a hero of the war of 1812 and who later discovered Pikes Peak. His Pike expedition, often compared to the Lewis and Clark Expedition, mapped much of the southern portion of the Louisiana Purchase as he searched for a route to the Pacific Ocean as requested by Thomas Jefferson.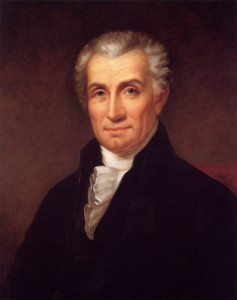 Monroe County was formed on April 1st, 1836 and named for President James Monroe. James Monroe (April 28, 1758 – July 4, 1831) was the fifthPresident of the United States (1817–1825). Monroe was the last president who was a Founding Father of the United States, the third of them to die on Independence Day.
In 1799, Colonel Jacob Stroud founded Stroudsburg and built his home at Ninth and Main streets that is now known as the Monroe County Historical Association.
Carbon County, with land from Northampton and Monroe Countries was formed on March 13, 1843 and was so named for the carbon that is the basic element of the area's lush coal deposits. The County seat is Jim Thorpe, which originally were 2 towns (Mauch Chunk and East Mauch Chunk) until they merged in 1954 and were named in honor of Jim Thorpe who was a famous Olympic Athlete.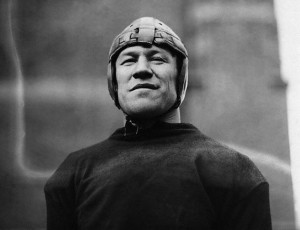 James Francis "Jim" Thorpe (May 28, 1888 – March 28, 1953) was an American athlete of mixed ancestry (Native American and Caucasian). His native Sac and Fox Sauk name of Wa-Tho-Huk translates as "Bright Path".  Considered one of the most versatile athletes of modern sports, he won Olympic gold medals for the 1912 pentathlon and decathlon, played American football (collegiate and professional), and also played professional baseball and basketball.
In a poll of sports fans conducted by ABC Sports, Thorpe was voted the Greatest Athlete of the Twentieth Century out of 15 other athletes including Muhammad Ali, Babe Ruth, Jesse Owens, Wayne Gretzky, Jack Nicklaus, and Michael Jordan
Why name a town in Pennsylvania for Thorpe? In 1904, the sixteen-year-old Thorpe decided to attend Carlisle Indian Industrial School in Carlisle, Pennsylvania. There, his athletic ability was recognized and he was coached by Glenn Scobey "Pop" Warner, one of the most influential coaches of early American football history. Thus an American sports legend was born in the wilds of Pennsylvania and Jim Thorpe, PA serves as the southern boundary of the picturesque Pocono Mountains.