Mildred's Lane
If you're an artist, you'll want to read this. If you are an aspiring artist, you really want to read this. If you are a member of the human community dedicated to an adventure in consciousness, you definitely want to read this!
It started with a conversation. I was talking to my friend, Joan Santo, co-owner of Narrowsburg Fine Wine & Spirits. She was telling me about an exciting new event taking place on October 10th – The First Annual Honey Bee Festival. Joan was so excited about those already committed to the event including many bee keepers and honey producers. "In fact, the largest distributor of organic honey that comes from Hawaii will be attending" … what? "Yes, it's a family owned business and his sister has an art community just across the river…"  What?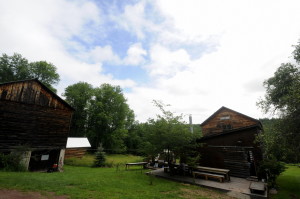 MILDRED'S LANE is a rustic, 96-acre site deep in the woods of rural northeastern Pennsylvania, just across the river from Narrowsburg. It is an ongoing collaboration between J. Morgan Puett, Mark Dion, their son Grey Rabbit Puett, and their friends and colleagues. It is a home and an experiment in living. The entire site has become a living museum, or rather – a new contemporary art complex(ity).
In 1902 Mildred Steffens was born in a tiny farmhouse that was a homestead dating back at least to the 1830's. She was one of nine siblings, but only she lived and farmed there for her full 86 years. The original farmhouse where Mildred lived is now the site of The Mildred's Lane Historical Society and Museum.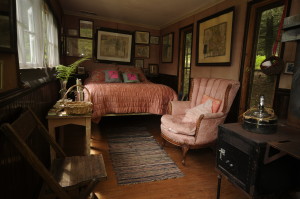 The core of the practice and the educational philosophy at Mildred's Lane is an attempt to collectively create new modes of being in the world — this idea incorporates questions of relationship to the environment, systems of labor, forms of dwelling, clothing apparatuses, and inventive domesticating;  all of which are form and ethics of comportment — and are embodied in workstyles.
I don't why I had the impression that J. Morgan Puett was an elderly woman. But I was surprised when this quirky and charming young woman arrived, dressed with artistic flair, cradling a crutch under one arm. Healing from a broken leg, we sat in the Main Street studio of the Mildred Complex(ity), as she began to wax poetic describing her source of inspiration for Mildred's Lane. Her passion is infectious.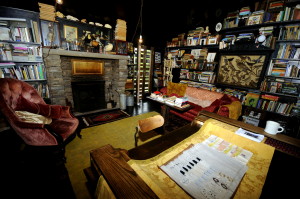 Morgan along with Mark Dion began developing Mildred's Lane over fifteen years ago. "Artists created this world. Artists are the great innovators of the world."  This art experiment as a Workstyle has a focus on inspiration and innovation for change.
Raised in South Georgia, J. Morgan Puett hails from an artistic family. Her talents have been expressed through architecture, interiors, fashion, film and art installations. From the 1980's through 2000, her highly successful clothing experiences (so much more than a mere clothing store –) made her a favorite of the fashion elite as well as those who embrace organic, flowing fabrics with a romantic, steampunk flair; the same eclectic, unique, artistic sense of design that is infused throughout the farm.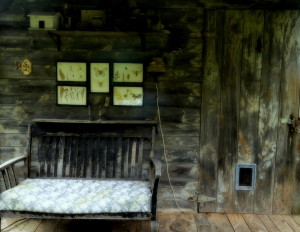 At Mildred's Lane, they provide resident sessions and projects for artists. They can house up to thirty people, creating a hive of creativity. "The total space of the domestic is part of the course of study —collectively working on experimenting with the full spectrum of a whole system of engagement." Many of the Fellows are referred by institutions such as The School of Art Institute of Chicago, where Morgan earned her MFA in Experiential Film Making.
The group weaves lifestyle through art but with a scientific curiosity. They embrace whimsical titles such as Ministry of Comfort, Master of Applied Complexity, Digestion Choreographer, Ambassador of Entanglement and Master Hooshress … hoosh being a favored word meaning a practice of conceptually arranging or styling, a critical engagement with one's environment.
The Mildred Complex(ity)is an experimental retail storefront and project space on Main Street in Narrowsburg. You can enjoy an Artist Talk on Friday evenings at 6pm.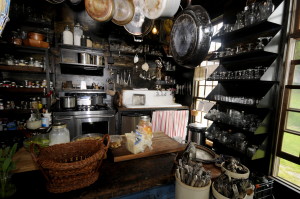 The real "Pocono Secret" is Mildred's Lane Social Saturday's. This is an experiment in unconventional dining. Resident chefs and students collaborate to create "conceptual" meals. Most of the ingredients come from the nearby Anthill Farm. The event includes a tour of Mildred's Lane projects, a lecture by an international visiting Artist and an Eventful Dinner.
Guests are welcome to bring their own wine or spirits. Come prepared to wash your own dishes. Wear sensible clothing and footwear appropriate for a farm environment. Be advised that you will need 4WD or AWD to traverse the half-mile driveway. Reservation invitations should be requested through the website. People can join the mailing list at MildredsLane.com so that you will receive an invitation along with information on visiting guest artist.  Or, you can email to mildredslane@gmail.com with the subject line "Social Saturday".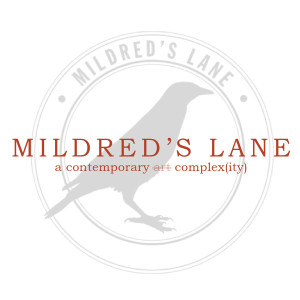 Mildred's Lane Historical Society and Museum and Supper Club Membership fees are on a sliding scale. All MLP fees are based on their domestic operating costs. Event Dinner fees start at $25, but please consider an additional donation and support the Mildred's Lane Historical Society and Museum Project(s).  You can visit JMorganPuett.com for additional information.