Vanishing Farmland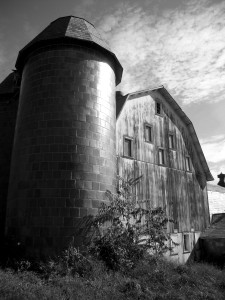 As a photographer, I find the northeast corner of Pennsylvania chock full of shooting possibilities. I love shooting nature images – lakes, rivers, rocks, flowers… I also love shooting old buildings, doors, windows, chairs… So, it's no wonder that I love shooting farms, particularly, barns.
I recently had a gallery exhibit in Connecticut.  In preparing for the event, I was trying to decide what theme I wanted to share. I started perusing my favorite images and it didn't take long to determine that Farms of northeast Pennsylvania would be my choice. I edited my images to a file of selects that numbered close to two hundred. I edited those down to about one hundred. I edited again and again and again until I had the number down to approximately thirty.  Since I opted to use a large format – 20×30 prints matted and framed to a finished size of 30×40. I had to select only six for the exhibit.
As I began curating the images, I realized that so many of the barns and farmlands that served as favorite subjects for my camera, no longer exist.  It made me sad but it also made me happy that I was able to revisit through photography. This month, I wanted to share six of my favorite local images with you.
The first image is located on Brook Street, behind Walmart. The barn is close to the road and easily accessible to shoot.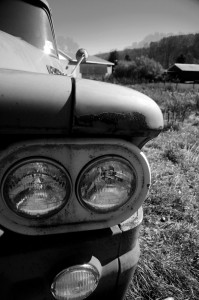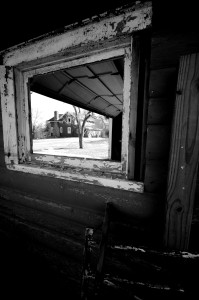 The second image is an old Dodge that was peeking out behind the cemetery, parked in the grass between the barn and farmhouse on Route 6 about a mile or so past the Wayne Memorial Hospital toward Waymart.
The third image is one of my favorites. It no longer exists. This used to be Urban Stables. I shot these images just before they took the house and barns down to build the new township building on Urban Road. I loved driving by this property and seeing the sign out front that read: Tooth Acres. It made me laugh every time!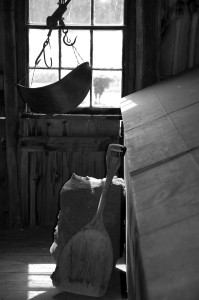 The fourth image was not shot in NEPA but in the Hopewell Furnace National Historic Site in Hopewell, PA near Cabela's. While discussing this shot with people, I would say that the cow really makes the photo for me. Many respond, "What cow?"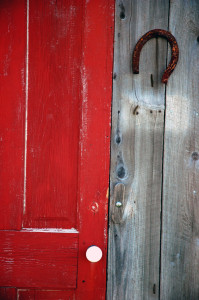 To complement the black and white, I selected two color images. I love the lines, color and texture in both of these. The first image was a small outhouse on the Calkins Winery property.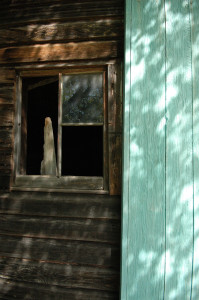 The last image is the barn set back from Long Ridge Road. I love this image the most. It reminds me of an Edward Hopper painting. The farm was vacant for many years and recently has been given new life. You can drive by and buy veggies on the honor system. I love that. That's why I love living here, the honest quality of life.  And, it's so wonderful to see that land being cared for once again.
I suppose that many farms are diminishing but there are new ones as well. Life cycles. Every barn is unique and every barn has a story to tell… just like people. What we embrace from the past nourishes who we are today and helps nurture a better tomorrow.  We all age and eventually we all fall apart… but it's a life well lived in between that truly matters.