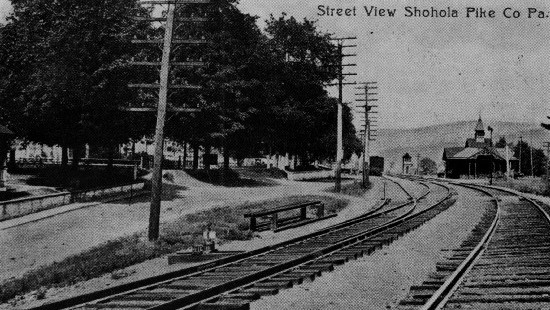 SHOHOLA GLEN HOTEL – ROHMAN'S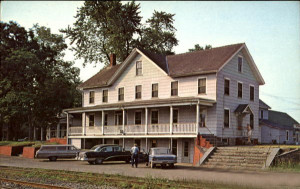 In Shohola – which is the native word for Place of Peace – you'll find Rohman's Bar and Grill. Once called the Shohola Glen Hotel, Rohmans Inn was established in 1849. A favorite destination for New York City dwellers, a round trip ticket cost $5.  In 1886 under the ownership of John F Kilgore, one of the 35 rooms available would let for $8-$10/ day with reduced prices for children. Servant's accommodations cost $4.50 while a transient could expect to pay $2 for a bed.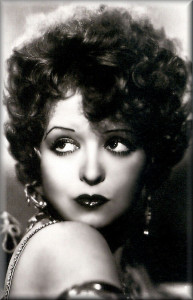 John Kilgore was known as the King of Bluestone having quarried much of the stone that helped build New York City and Philadelphia.  His dream was to create the biggest and best resort along with an amazing amusement park. The railroad stopped running before he could realize his dream but there are faint remnants of the amusement park. Kilgore purchased the gravity railroad train car which was replaced the year before with more powerful engines and used it to take guests to the top of the hill and treat them to an exciting ride – the precursor to the modern day roller coaster. In its heyday, the Shohola Glen Hotel hosted many celebrities of the day. Silent film stars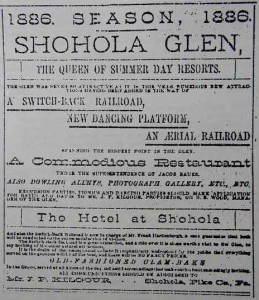 Gloria Swanson, John Gilbert, Mary Pickford and Clara Bow all signed the guest register that is still available for viewing. Other movie stars included Jean Harlow and Bette Davis. The most notable guest was Charles Lindburg, the first person to fly solo, nonstop from Roosevelt field on Long Island to Paris France. Rohmans was rebuilt in 1885 and once again in 1941 after a fire. It was at this time that the second floor four lane bowling alley was added. It is one of the few bowling alleys in existence that still requires manual pin setting. The great Shohola train wreck of the Civil War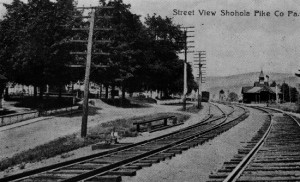 By the summer of 1864, while union troops were advancing deeply into Georgia, northern prisons were overflowing with confederate prisoners   The Erie railroad was enlisted to help move prisoners from point lookout Maryland to Elmira, New York. On July 15 1864, locomotive engine 171 pulling 17 passenger and freight cars carrying 833 confederate soldiers and 128 union guards moved along at 20 miles per hour. Engine 11 was classified as "an extra" indicating it ran behind a scheduled train; a common way to move additional cars with minimum paperwork.  The scheduled train, West 23, displayed warning flags to indicate another train was following. However engine 171 was delayed leaving Jersey City while locating several missing prisoners and again while waiting for a drawbridge, it arrived at Port Jervis 4 hours behind West 23.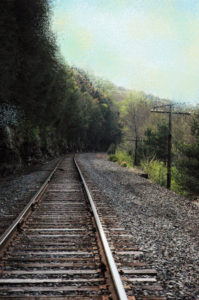 Meanwhile a coal train heading toward Lackawaxen for the spur connection to Honesdale requested permission to proceed. The station telegraph operator, Douglas "Duff" Kent seeing that West 23 had passed, cleared the coal freight to continue and their fate was sealed. Around 2:45 the trains collided at King and Fillers Cut. Many of the wounded were taken to Rohmans for medical attention. There were so many mangled bodies that the confederate dead were buried alongside the wreck in a communal grave. The union soldiers were given individual coffins. The final tally was 787 confederate soldiers delivered to Elmira. On June 11, 1911 the confederate dead were disinterred and brought to Elmira's Woodlawn Cemetery in another common grave. Their names inscribed on two bronze plaques affixed to a single stone monument. Names of union dead face north while the confederates face south.
A complete satisfactory account of those killed is inconclusive. Estimates range from 60-72 not including the two Johnson's from North Carolina who died from injuries and are buried in the churchyard at Barryville. There are 5 unaccounted prisoners who are said to have escaped.  Legend has it that there were many local residents opposed or just tired of the war and that they helped to keep the prisoners hid from authorities. They are reported to have integrated themselves to the community easily since the war ended shortly thereafter.