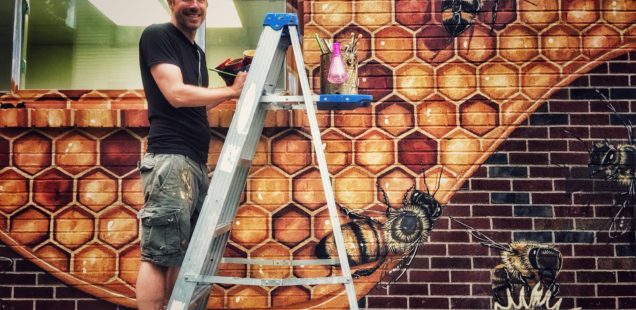 What's All the BUZZZZZZ?
There is only one Queen Bee to every hive. If the Upper Delaware region was its own hive, then Joan Santos is our Queen Bee.
I first met Joan about sixteen years ago while working-out at the Woodloch Spring Sports Complex. She is funny, beautiful and smart. As is her husband, Ron Santos. Joan is a retired NYC schoolteacher and Ron is a retired Lieutenant of the NYPD. Originally from Brooklyn, they purchased a home in Woodloch Springs thirty years ago, making the full time move in 2007.
As they raised their children, Joan volunteered for a variety of local organizations including the Wayne Memorial's Other Shop in Hawley. With the kids grown, it was in 2011 that the two decided to start a business. They love wine. When their friends in Narrowsburg decided to sell their store, Joan and Ron knew it was the right thing for them. And, because they also loved food, opening Narrowsburg Proper was the next step for them. So many people requesting items from the old neighborhood is what makes Narrowsburg Proper so unique – the not-so-general, general store features the best of Mom and Pop shops from Brooklyn.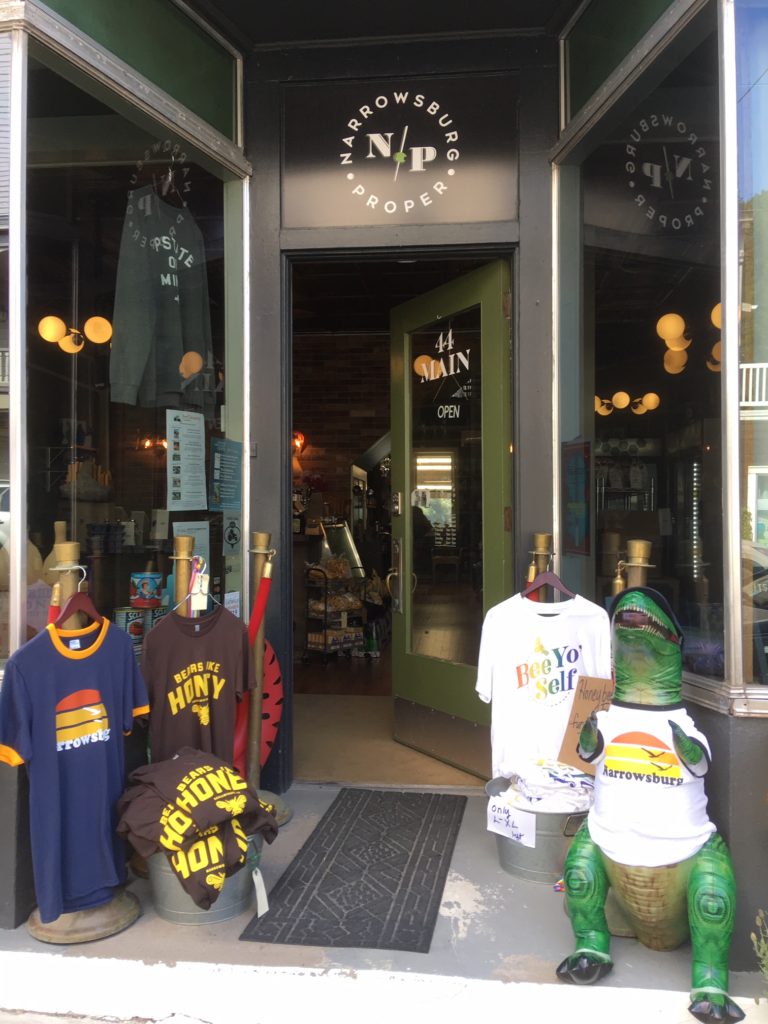 Joan talks to everyone. She inquisitive and she is very creative. She is always thinking. She is very passionate about many things. One of those things was the collapsing Bee colonies. Together with Charles Wilken and T. Martin Higgins of Two Queens Honey, they decided to create an event to heighten awareness of the depletion of Honeybees and other pollinators.
So, in 2014, the Honeybee Fest was born! The FREE EVENT offers educational demonstrations and a plethora of honey and bee related products; and features the WAHS marching band.
The event was acknowledged by the White House in its inaugural year with a letter from Barak Obama which is proudly on display in Narrowsburg Proper.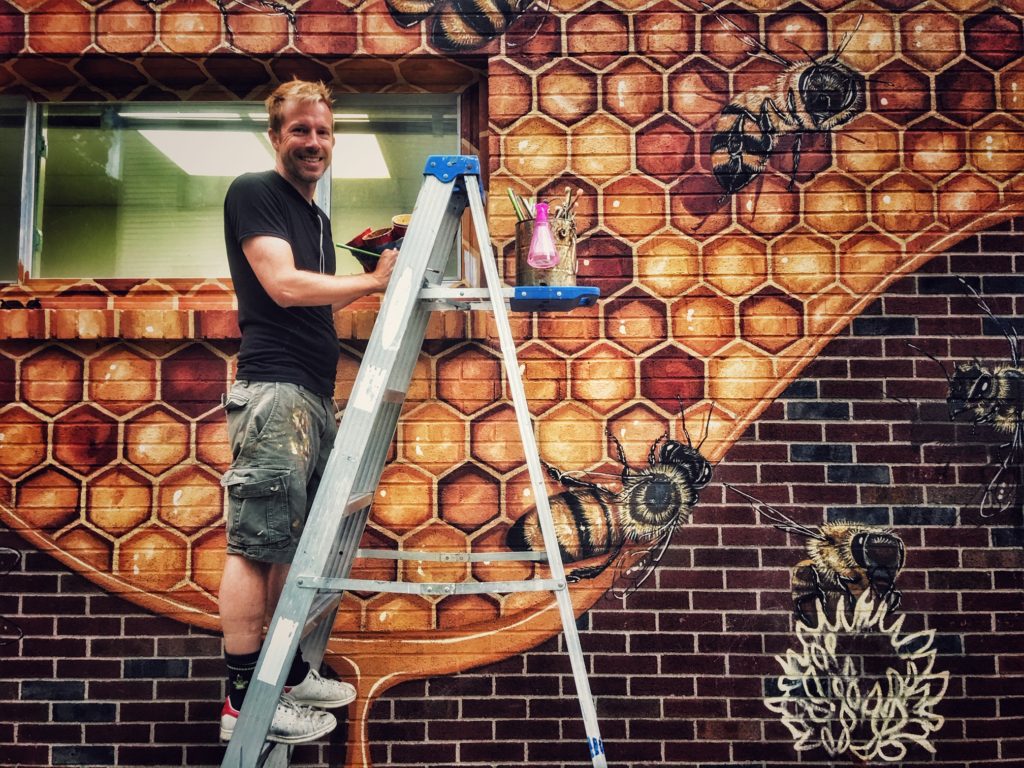 This year, a new addition is the beautiful mural on the Wayne Bank. THE GOOD OF THE HIVE is an initiative by Matthew Willey to paint fifty thousand bees – the same number needed for a healthy hive. You can follow his progress around the country on Instagram @TheGoodOfTheHive
This year's fifth annual Bee Fest will take place on Saturday, September 28th, 11a – 5p. You'll enjoy classes, crafts, gardens, beekeeping, honey, food, costumes, gifts and so much more. Don't miss this great event. Visit www.BeeFestival.org for details.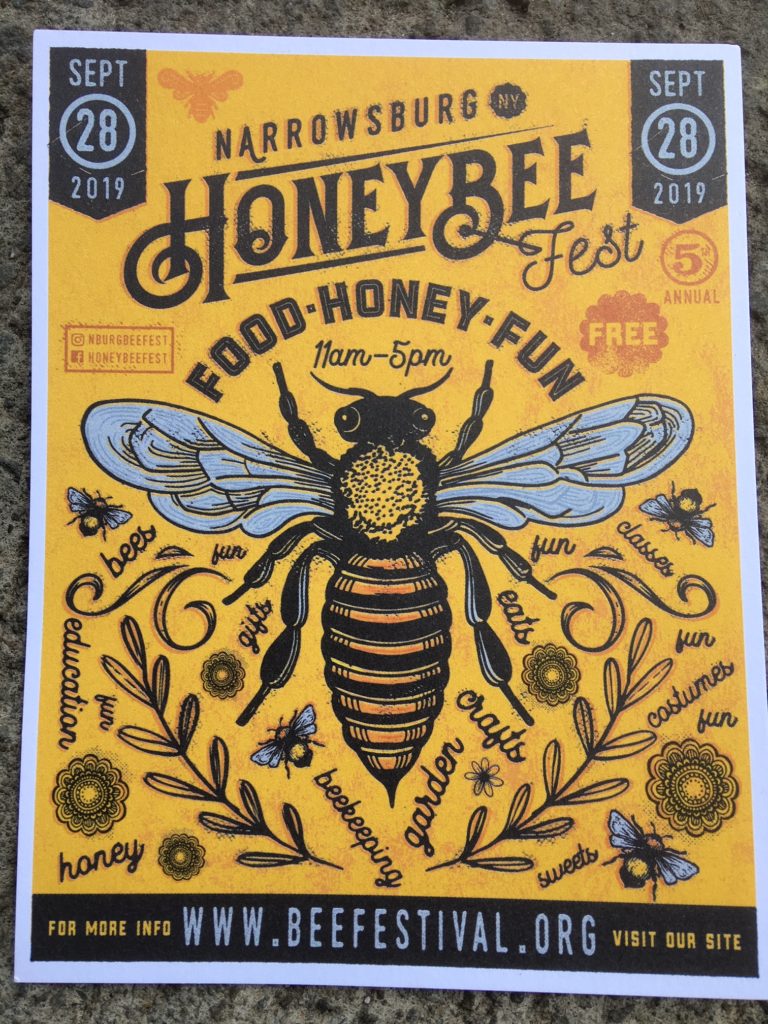 There's nothing sweeter than a Queen Bee dedicated to enriching our community through education, food and laughter. Thank you, Joan. (and, Two Queens Honey).
Follow us on Instagram and Facebook @PoconoSecrets Visit www.LAGuzda.com or www.PoconoSecrets.com for past articles.