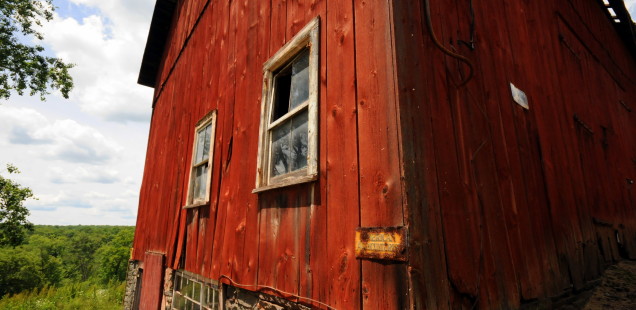 Barn Door Prize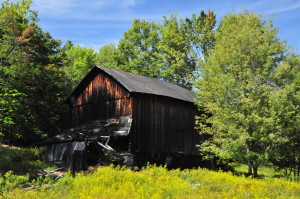 I love barns. Like people, every barn has a story to tell. At one time, barns were the central element to family life. Barns housed the food supply. In the thirteen years of living in this picturesque area, I have seen so many beautiful barns disappear – some over time, some overnight.
How many of you remember the sweet little barn nestled on the roadside of 590, heading toward Woodloch just past the Towpath on the right hand side, with its collection of charming birdhouses? That barn would make me smile as I passed. I was sad when Ivan and its heavy rains in 2004 brought the barn and birdhouses to the ground.
There are several types of barns: Pole Barns, Crib Barns, Round Barns and Bank Barns. The Dutch Barns were known for their ornate qualities. Bank Barns were built into the side of a bern so that both levels could be entered on ground level.
How many of you take notice of barns as you travel the area? Do you have a favorite barn? Do you ever wonder about the people who built the barn, the life in it? I invite you to send me a photo of your favorite barn. You can email to PoconoSecrets@aol.com. Or, post on Instagram with the hashtag #PoconoSecrets.
Here's a challenge…
Pictured are eight barns, all located (currently or in the past) around Pike and Wayne counties. Can you identify where these barns are/were located? Send your answers to PoconoSecrets@aol.com. The first person to identify all eight barns wins $100!
All entries must be received by June 1st, 2016.
Good Luck!
UPDATE:  Congratulations to Joan Clark of Hawley, winner of the contest.
Here's where each barn is located:
#1 – Owego Turnpike, Hawley
#2 – Route 590 toward Woodloch on the "S" curve, VanderBeek Farm
#3 – Route 390 toward Skytop, Candensis
#4 – Peggy Run Way and Branning Road, Hawley
#5 – Milanville Road, Beach Lake
#6 – Welcome Lake Road
#7 – Route 209 between Dingman and Bushkill
#8 – Long Ridge Road, Hawley