DELAWARE WATER GAP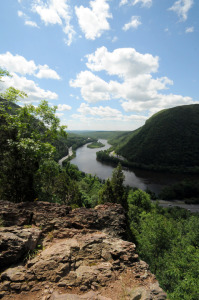 I can't count how many times I've driven along I-80 through the Delaware Water Gap and admired its loveliness… for all of, what?  a minute, maybe two? Last year during the Delaware River Sojourn I had the opportunity to kayak through the Gap and that was a beautiful experience.
So when my friends – Professor Stephen Pekar of the School of Earth and Environmental Sciences at Queens College and Robert Griffitts, Lawyer, musician, techy and explorer – invited me to join them on a hike of the Gap, it was an offer I couldn't refuse.
We met at a parking lot right off of I80 and the trail head for several hikes. It's located about 1.5 miles from the bridge. With back packs, field guides and our personal geology expert, we headed onward and upward.
Surprisingly for a Wednesday afternoon there were quite a few people hiking. It took us about 2 hours to climb to the peak. That included many stops to observe the evidence that this mountain was once under water. You can clearly see where the water cut into the rock. If you look close enough, you can find fossils of corals and shells.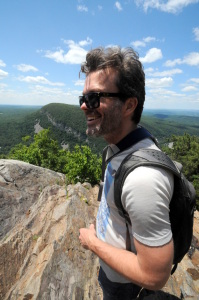 According to Professor Pekar, " The rocks in the Delaware Water Gap are conglomeratic sandstones that were deposited around 440 million years ago.  These sandstones and conglomerates were formed from a mountain system that was created when a subduction zone closed up owing to the crashing of an island arc into the North American continent from the east (epicenter was from Manhattan and western Connecticut and east to Rhode Island.)  These mountains, that were as high as the Alps, were eroded and shed their sediment to the west.  The sandstones and conglomerates that hold up the Delaware Water Gap are the sediments that are made up of the wearing down of the mountain.  The formation names are the Shawangunk and Bloomsburg Formations."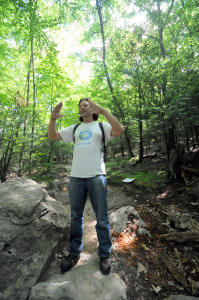 Amazing that the mountains in our backyard were once as high as the Alps! It's fascinating that the Water Gap was all under water at one time. But the best reason for exploring this hike, the views from above. You feel as though if you stood tippy-toe and stretched just a little more, you might just be able to touch a star, a cloud or… heaven itself.