I HATE WINTER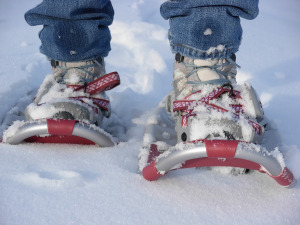 I have a confession to make. I have never been a big fan of winter. I have always preferred the warmth and greenery of summer, especially for hiking. That is, until I purchased my first snowshoes. I discovered that hiking is what I truly love and I just needed a way to experience it year-round.
Snowshoeing is said to have begun some 4,000 – 6,000 years ago in central Asia; but not really adopted by Europeans until the seventeenth century, primarily due to the fur trade. Different styles, shapes and sizes were developed over the years for various purposes but the fundamental use was to distribute a person's weight evenly over a larger area to keep them atop deep and heavy snows.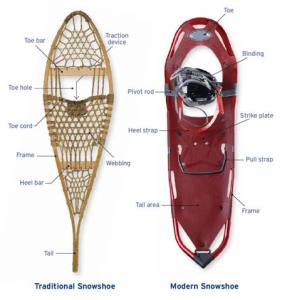 According to Snowshoe Magazine, snowshoeing as a sport has grown about 93 percent since 1989. Snowshoes today are divided into three types: aerobic/running (small and light; not intended for backcountry use); recreational (a bit larger; meant for use in gentle to moderate walks of 3–5 miles; and mountaineering (the largest, meant for serious hill-climbing, long-distance trips and off-trail use). Snowshoers can burn more than 45% more calories than walking or running at the same speed, which averages out to 600 calories per hour. Snowshoeing is sexy!
The Pocono Mountains offer a plethora of hiking trails featuring mountain views, waterfalls, lake shorelines, forests and open meadows.
State Parks and Game lands are an excellent source for beautiful snowshoe locations.  Some area favorites include Bruce Lake in the Promised Land State Park, Prompton State Park and Shulman's Point on Lake Wallenpaupack.
If you are looking for a guided snowshoe experience, or if you are interested in learning and trying snowshoeing for the first time, you may wish to consider Pocono Outdoor Club which offers a variety of guided hikes and outdoor experiences (www.poconooutdoorclub.org). Also, Monroe County Environmental Education Center in Bartonsville. They offer guided snowshoe excursions at the beautiful Skytop Lodge (www.mcconservation.org or www.skytop.com – Skytop Lodge is open to area residents during the week for skiing and snowshoeing.) And, you may want to reserve your space now for next month's Northeast Wilderness Experience (www.newildernessexperience.com) "Hearts in the Snow" Valentine's package, a guided moonlight snowshoe excursion followed by dinner at The Settlers Inn (www.thesettlersinn.com). Snowshoeing is sexy!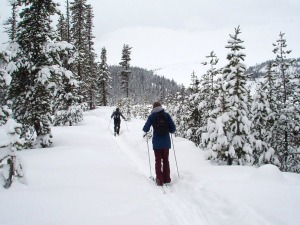 Snowshoeing is yet another great way to experience the beautiful Pocono Mountains. Some tips to ensure a pleasant experience – use layers that can be taken off with ease when dressing for snowshoeing. It might be cold out, but breaking trail can be hot work in a heavy coat. Regular hiking boots are fine as long as they are waterproof. Never wear cotton socks when in the snowy elements. Wet feet can drain your energy and possibly lead to frostbite. Consider wearing synthetics and wool to induce heat retention when wet.
We invite you to share your snowshoe photos on www.facebook.com/ConnectionsMagazine. Enjoy the experience – be safe and have fun! And, did I mention that Snowshoeing is sexy!