Winter Wonderland Happy Holidays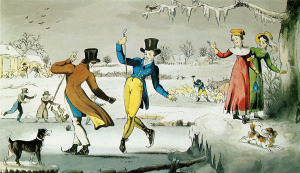 "Walking in a Winter Wonderland" the great traditional Christmas classic was written by Richard Smith, a native of Honesdale, PA. He was inspired to pen the lyrics after a snowfall blanketed Central Park. Smith had written the lyrics while in the West Mountain Sanitarium in Scranton whole being treated for tuberculosis, better known then as consumption. The original recording was by Richard Himber and his Hotel Ritz-Carlton Orchestra in 1934. Other artist who enjoyed success with recordings are Artie Shaw, Guy Lombardo's orchestra (a top ten hit), Johnny Mercer (#4 on the Billboard chart) and Perry Como.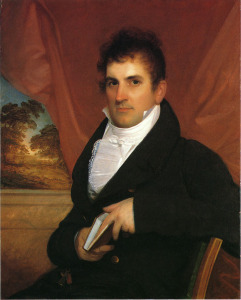 Honesdale, PA is named for Phillip Hone (October 25, 1780 – May 5, 1851).  Mayor of New York City from 1826 to 1827 and a member of the Whig party, he was nicknamed "The Party Mayor" due to his lavish gatherings at his home as well as City Hall. Married at 22 to Catherine Dunscomb, by whom he had three sons and three daughters. Hone became wealthy in the auction business. By age 40, the self-made Hone had amassed such wealth that he effectively retired to the life of a "gentleman".  Hone was elected Mayor in 1826, but served only one term. He became a man of great prominence in New York society, for his wealth, sophistication, extensive travel and good taste, and was good friends with most of the political, artistic and scientific leaders of his day. Most notable among them were: Washington Irving, Samuel Morse, Daniel Webster, John Jacob Astor and U.S. Presidents John Quincy Adams and Martin Van Buren. He was the first President of the Delaware and Hudson Canal Company in 1825 and 1826 which later became the D&H Railroad – his connection to the area. He was most notable for a detailed diary he kept from 1828 until the time of his death in 1851. His recorded diary is said to be the most extensive and detailed of his time in 19th century America.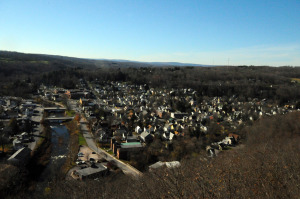 Irving Cliff is named after Washington Irving's visit to the lookout in 1827.
Downtown Honesdale offers great holiday shopping options. Two favorites are Country Dawn and Wildflower, both offering unique items from jewelry and clothing to housewares and furniture.
Other unique shopping opportunities in the area include Alice's Wonderland in Greeley – great outdoor clothing and footwear; a variety of antique and country stores in Milford; Holley Ross Pottery Outlet in Sterling; and an interesting little store – Kuhn's River Country Alpaca Store, also in Greeley.
Have a safe and joyful holiday season. Be patient. Be kind. It's not about gifts received, but love shared. Count your blessings as you count down to a new year. May 2013 be a year of inspired creativity, a year of abundance for all.