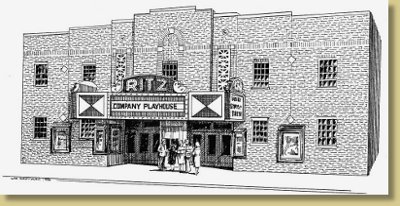 Puttin' On The Ritz
The Ritz Company Playhouse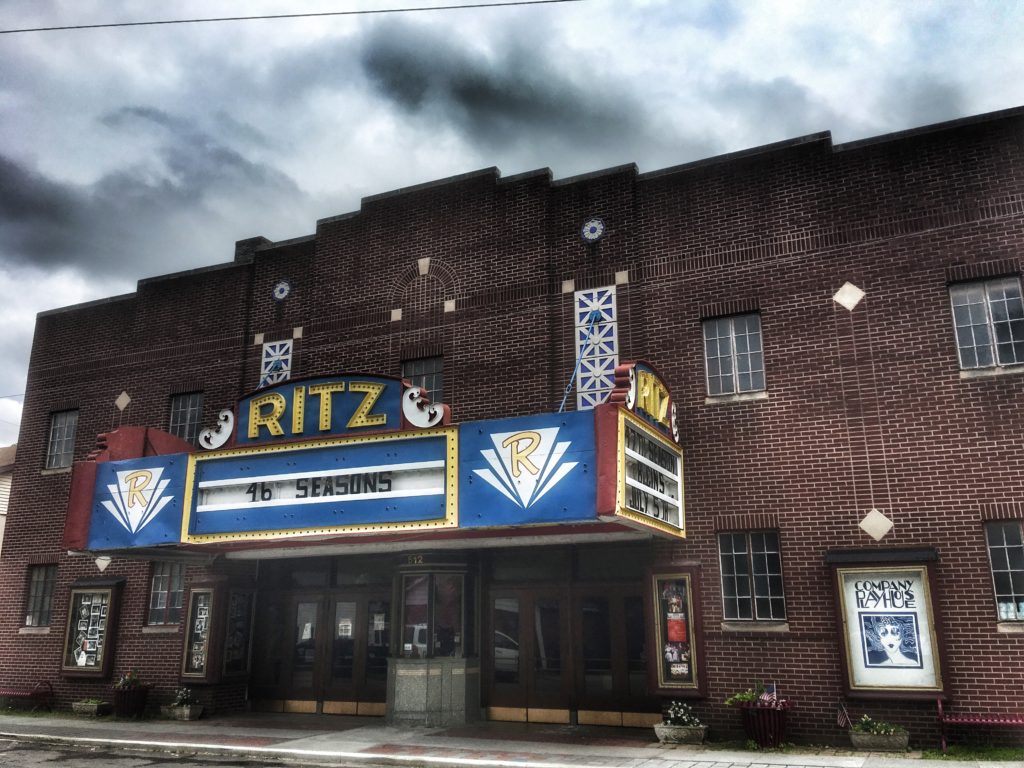 Thank you to Carol McManus for this month's Pocono Secret.
Summer in the Poconos often means water sports, fishing, and hiking. But after dinner, there is another popular form of entertainment that's been going strong for 47 years. The Ritz Company Playhouse has produced over 300 shows including musicals, comedy, and children's productions every summer since 1973.
This jewel of a theater tucked away on Keystone St. in Hawley, PA was founded by Marjorie C. Murphy, a student of Eva Le Gallienne, her husband Dick Murphy, and friends Marjorie's long-held belief is "We don't play theater; we do theater." That's why actors and audiences come back year after year.
The building itself opened in 1936 and over the years operated as a vaudeville house and movie theater. In 1973, it was converted to a live theater and has operated every summer since then. When you step into the Ritz you truly step back in time. It is a treasure from by-gone years even as modern improvements keep it fresh and relevant. Last year it was a new roof, this year, audiences will look up to see the replaced ceiling, and next year the project will be interior painting.
The building is only part of the story. The Company Players, Inc. are dedicated to providing live theatrical and cultural events to northeast PA and to incorporate the talents of members of the local community, as well as talented performers from outside the area. If you ask anyone on the board or any of the more than 1100 actors who have graced the stage, they will tell you the reason for their longevity is the focus on delivering good theater and having fun doing it.
Not only can you count on a great night of entertainment, but you can bring the whole family without breaking the piggy bank. Tickets range from $5 to $15. There isn't a bad seat in the house and when the lights go down, the entire audience is treated to something very special.
Every summer, the theater puts on four productions including two comedies, a full-length musical and a children's show. The Ritz Bitz theater camp is one of the most coveted opportunities for kids every summer. It is now in its 20th season and after auditions in June, a group of fifty local kids are tutored in the theatrical arts which culminate with their own show in August. To qualify children must be entering the first grade through entering ninth grade. Many of the children who had their first experience with Ritz Bitz have gone on to theater careers.
Everyone involved with the Ritz is a volunteer who contributes their time and talent just to be part of the family. One of the biggest delights for our local audiences is when they can say, "I know that guy!" Don't be surprised if you see your teacher, your vet, your lawyer, your insurance salesman, your builder, your librarian, your news anchor or your brewer on stage.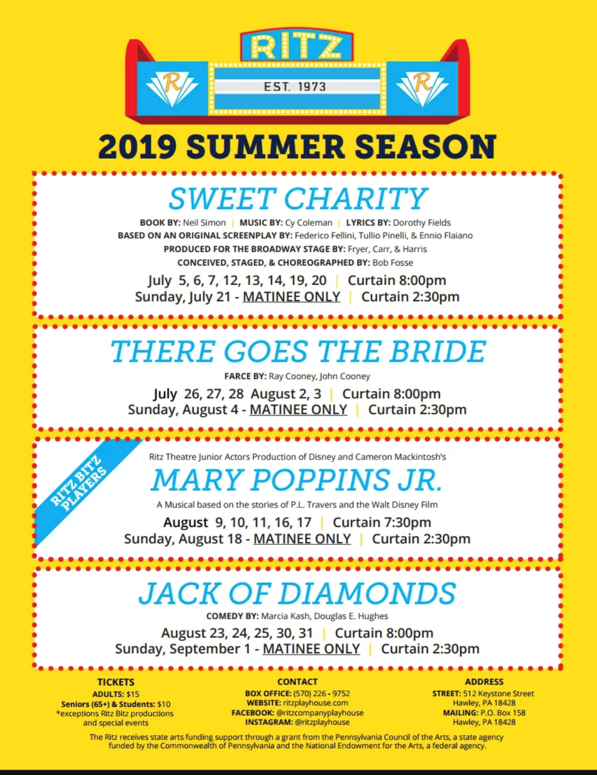 This year's line-up includes Sweet Charity (original Fosse production), There Goes the Bride, Mary Poppins, Jr. (Ritz Bitz players), and Jack of Diamonds. For information and tickets, go to ritzplayhouse.com.
Follow us on Instagram and Facebook @PoconoSecrets Visit www.LAGuzda.com or www.PoconoSecrets.com for past articles.