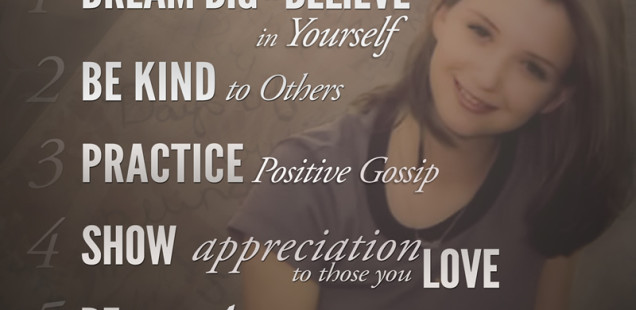 RACHEL'S CHALLENGE
IT'S MORE THAN YOU THINK
I had the honor to work with a very special group of students at Lake Wallenpaupack High School last month in a program sponsored through a grant from the United Way. The program was created to use the principles of Rachel's Challenge to expose students to art, music, writing and performance.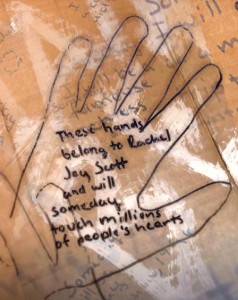 Somewhere I had the impression that Rachel's Challenge had to do with bullying. What I learned was that was the least of it. I don't think the average person truly understands this inspiring organization.
Who is Rachel?
Rachel Scott was the first victim of the Columbine shooting. It was after her death, through her diaries and people stepping forward, that it became clear that Rachel was an exceptional person. Her goal was to touch one million people through random acts of kindness. Even her parents were unaware how significantly Rachel touched people's lives with a word, an action, a promise. After her death, Rachel's family created the organization to continue Rachel's vision and in the process created a movement. I invite you to visit their website at: www.rachelschallenge.org
The five pillars of Rachel's Challenge are:
a  Look for the Best in Others
a  Dream Big
a  Choose Positive Influences
a  Speak with Kindness
a  Start Your Own Chain Reaction
And so we began to create a program… from the first day it was apparent that something extraordinary was taking place. I came to help teach yet felt I was the one learning something significant. We began with a temporary title of "Random Acts of Kindness." Our first collaboration was to create a folding poem – each person delivers one line secretly, no one knowing what the others have said.
"Random Acts of Kindness"
You're a real human being.
One human being validates another – we are worthy.
It takes personal strength to perform random acts of kindness.
If you see someone sitting alone, ask them to sit with you.
Everyone appreciates kindness even if they don't admit it.
It's as easy as smiling.
Giving of yourself in an altruistic way.
Giving of yourself selflessly without expectations.
I long for the day it is no longer random… just kindness.
As the program evolved, so did we, the title became "Dream Big." We took a long look at labels. How they get assigned, taken, resented, applied or accepted. We looked at how living in a box can suffocate your creativity, your sense of self and your ability to dream. These students were courageous in owning their own fears, limitations, weaknesses as they looked to spread their wings to create a life of substance. Each brought something special to the group and together they created a sensitive, delightful production that they shared with the ninth graders.
Random Acts of Kindness began the experience and culminated with Dream Big.  I think it's important to connect with people of all ages. These students impressed and inspired me. It's a testament to the exceptional teaching staff in the Lake Wallenpaupack district. It's no secret that the Pocono Mountains is a great place to raise children, children that are not afraid to Dream Big and make a difference in the world.
"Dream Big"
The mind is like a bird wanting to fly away.
Don't let anyone stand in your way.
It could be the most stupid or absurd thing ever, but it's your passion so embrace it.
It's finding beauty in your dreams as well as the mountains you've climbed to reach them.
Our days are limited but the possibilities are endless.
Doubt is the most worthless thing.
Some people say some dreams are too big, I started to believe them.
There are no small dreams; you're only limited by your own imagination.
Don't be nowhere. Be here now.
Make your life better than your dreams.
Think bigger and your train of thought may take you somewhere you never imagined.
Live loud. Live large. Kaboom! Can you hear the colors of my dreams…