AUCTIONS
Going Once… Twice… SOLD!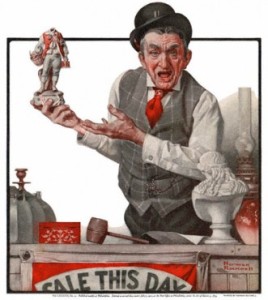 There's a reason that shows like American Pickers, Storage Wars, Auction Kings, Pawn Stars and of course, Antiques Roadshow are so successful. We are all treasure hunters at heart.
The Pocono Mountains are home to hundreds, maybe thousands of antique stores. They run the gambit from junk shops to high end collectables. Yard sales, barn sales and flea markets are also abundant and one can often find a great bargain or treasure.
But one of my favorite ways to find a treasure is attending an Auction!
Silent Auctions are great. You can find some impressive offerings and support a worthwhile charity at the same time. In a silent auction you peruse the items and write your name and amount. The next person will write their name and increase the bid. If it's an item you really want, you will need to make your way back to the item, sometimes several times but that's part of the fun, especially if you win. Most silent auctions offer dining; shopping and getaways but you can also find beautiful artwork and sports paraphernalia.
A Tricky tray on the other hand is also very fun but leaves so much to chance. You purchase your tickets – you keep one end of the stub and place the other in the brown bag for your selected item. (I mention that you need to keep one side of the ticket because I have gotten so carried away in the excitement that I put all of my tickets in bags with no way to know which is mine.) There are many tricky trays in the area. And each one supports a great cause. It's a fun night and I encourage you to participate. Most tricky trays that I've attended offer many themed baskets that are fun to win and discover exactly what's in there!
But one of my favorite ways to find a true treasure is to attend a LIVE AUCTION! You sign in with your license to get a number. You usually arrive 30 – 60 minutes prior to the auction to wander through the maze of items. You can check for damage, quality, and see if it has any significant markings or labels. To bid, you simply hold up your number. Be warned, once the auction begins it moves at a rapid pace. You must pay attention especially while bidding on an item. Trust me, you can upset the rhythm with a delay of response or lose your bid quickly. It's not for the faint of heart. It's exhilarating and it's exhausting. It can be a long day when the items you want are scheduled hours apart. You can leave and come back. Or you can leave your highest bid and someone on staff will bid for you.
My first live auction was at John Wetmore's Auction Barn in Beach Lake. I had a friend whose parents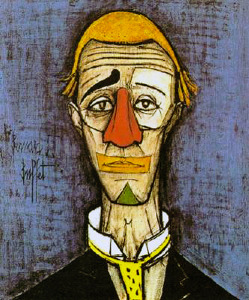 were moving. They were quoted a ridiculous figure for a company to come and take everything away. I had heard about John and suggested they give him a call. Not only did John come and take everything away, he split the proceeds from the auction. It was a win-win deal for everyone. I also love that at John Wetmore, they do not charge a premium. It is a family business and they take great pride in what they do. Not only is it a business but, to them, it's a service; and they provide it with dignity, honor and integrity. They are also pretty darn funny and engaging.
I have purchased numerous treasures over the past few years from a riding mower to a grinding stone, a large porcelain Buddha head, tools, jewelry and furniture. Once, I almost bought a horse. I purchased a Bernard Buffet signed lithograph for $25 that was valued at $500.
There are other auction houses in the area as well as sales of storage units. Go to auctionzip.com and find an auction near you. Happy hunting!