New Brew – View my Photos
There's a new vibe growing in Hawley – Benches, new shops, events and a beautiful new playground! One of my favorite new additions is the Brew Coffee Company. It's located above Ravyn & Robyn (the old Torte Knox); you enter on the side as you walk toward the Ritz Theater.
Offering a privately branded coffee, Allison Hunsberger, along with her parents, created Brew Coffee Company. The beans are acquired through fair trade in Hatti and are roasted domestically through Singing Rooster. The proceeds from office supply and website purchases go to a non-profit organization called Clean Water for Life. They provide clean water to third world countries, including Hatti. You can learn more about it on their website: www.BrewCoffeeCo.com.
Hawley was the first opportunity to open a physical coffee shop. "It was hard to resist this beautiful building." says Allison. Originally from Doylestown, Allison has been visiting the area since she was four and has great fondness for Hawley. They have their sites on Brooklyn for the second coffee shop.
I first discovered Brew Coffee Company about 2 months ago when I met the manager, Palmer. He could well be one of the happiest people I have ever personally met. We began talking about art and the community and he suggested I meet Allison. Allison and I began discussing our travels and our love for Hawley. We met again and I showed her some of my photography. She invited me to create an exhibit for the beautiful space.
Of course with any creative project, we began going in one direction but ended up in another. The selection of photos on display focus on doorways – a passage into somewhere new; which includes some haunting images of young monks from a recent visit to Thailand and Cambodia. Two of the images have a boat prominent rather than an actual physical doorway yet supports a theme of passage. When asked what she thought of the exhibit, Allison said, "Laurie's photos transport me. They feed my desire for wanderlust."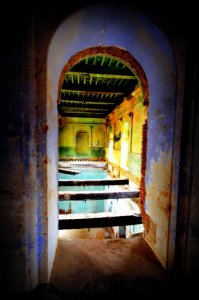 Brew Coffee Company and Ravyn & Robyn are dedicated to cultivating the creative spirit of community. Ravyn & Robyn operates as a bistro-style restaurant that features small plates, craft beers, an impressive wine list and a full bar. They are looking to diversify and are open to community ideas, events and activities.
Currently under development for December (maybe January) are a CREATIVE WRITING GROUP and a BOOK CLUB.  What a great way to foster creativity through the winter months. If you are interested, contact Allison at 267.825.2766 or email at: APHunsberger@BrewCoffeeCo.com.
Both Brew Coffee Co and Ravyn & Robyn are available for holiday parties.
Another project in the works is The Beer Garden scheduled to open May 1st, 2015. Stay tuned for details.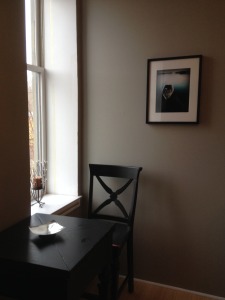 In the meantime, stop by Brew Coffee Co and view my photography on display. I'd love to hear your thoughts. PoconoSecrets@aol.com. Perhaps we can share a brew together and help support clean water for those in need. And isn't that the best of holiday spirit – sharing time, laughter, ideas and supporting something worthwhile.
Have a happy and safe holiday season. Wishing you a magical 2015!