DO YOU BELIEVE IN GHOSTS?
UNREGISTERED GUESTS?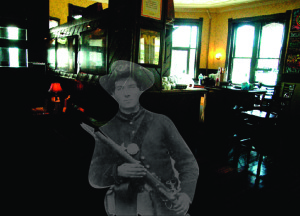 Have you ever visited a place that you never wanted to leave? Be careful what you wish for…
Do you believe in ghosts? Whether you do or you don't, there are certainly some strange happenings that beg for an explanation, especially at The Wayne Hotel in Honesdale, PA.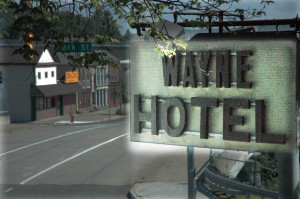 Originally Hotel Wayne, it was built in 1827 as the first public house by Charles Forbes. The 2-story wood frame building was redone in brick in 1895. The hotel served the managers and executives of the D&H Canal as well as stage coach travelers.
Early on staff reported strange happenings, hearing footsteps, shower curtains moving, doors rattling, bed covers turning themselves down and even a downstairs bathroom filling with steam for no apparent reason.
Ghost Finders, a television show hosted by paranormal professionals, visited the Wayne Hotel. Their investigation revealed some interesting findings. They were able to capture paranormal activity both visual and audible. You can view the entire episode on YouTube.
Crystal Boehmer, a psychic, visited the hotel and sensed a civil war soldier with his gun standing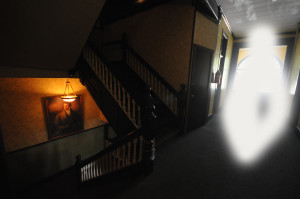 guard between the front entrance and bar area. She identified the spirit of a horse named "Sparky" or "Spartacus" in the Phillip Hone Room which was originally the portico or livery entrance.
Another psychic heard a voice clearly say, "lie on the bed" and smelled alcohol. She also felt spirits of prostitutes that were dark and felt abused. Could it be an executive's party that got out of hand?
There are reports of a baby crying, a man that looks remarkably like Abraham Lincoln but is not and a woman named Margaret who likes to stand on the balcony overlooking the street.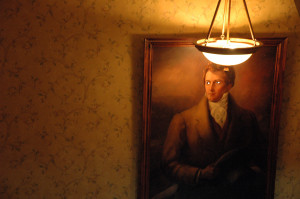 The hotel's manager, Jim Petorak, has to agree that there have been some strange events that aren't easily explained. The Phillip Hone portrait hanging in the center stairway seems to follow you. Hone served as Mayor of New York City and is for whom Honesdale is named. An interesting man, it's no secret he enjoyed a good party. Perhaps he continues to party at the Wayne Hotel?
I'm not sure who painted the Hone portrait but the floors are decorated with Howard Becker paintings. They are beautiful and diverse. Becker, a local Honesdale artist, was born 1914 in Albany, NY, graduated from the Pratt Institute of Art in 1935 and from 1941 to 1945 he traveled with the U.S. Army to North Africa, Italy and France, producing hundreds of water color sketches of U.S. Army forces, war damage and civilian life. Becker lived in Taos and Santa Fe, traveling to Arizona and California, were he spent almost nine years, painting and holding exhibits. Honesdale became his home, where he lived a half of his life, capturing historical scenes, old farms, covered bridges, country churches. Upon his passing, as many as 3,700 paintings were counted in his home.
Ghosts or not, The Wayne Hotel is also a great place to eat. They offer delicious food and a variety of ales and spirits. I don't mind if there are ghosts, as long as they don't eat my blue cheese potato chips! They're to die for!