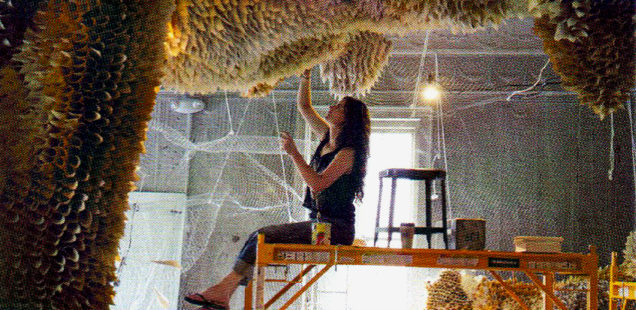 Don't Miss The Paper Caves!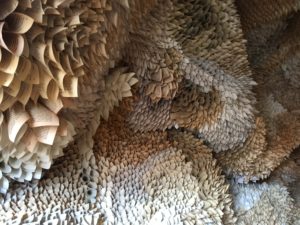 The Paper Caves through November 30th – EXTENDED THROUGH DECEMBER!
From the first time I walked into Basin and Main as a Pop-Up Store, I was a fan. I have yet to attend a dinner or music event, but only because my schedule has not cooperated. So, I was naturally curious when I learned about this art installation called, The Paper Caves.
It is a magnificent creation! With 2400 square feet of rolled pages into a hidden framework, it is delightfully inspiring. You are awe struck as you enter. It is worthy of an exhibit in Paris or New York. And here we are in sweet little Honesdale with this extraordinary gift in our midst.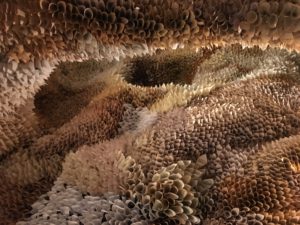 You feel as though you are exploring a cave, complete with stalactites. But, as you delve into the detail; one section looked like the skin of a dragon, next to a honeycomb, just above the Calla Lillies.
The artist, Samuelle Green, grew up in Honesdale. She was educated in Philadelphia and New York and has traveled the world as an artist. She is a visionary. She is original. And, we are very fortunate to have her as our neighbor.  Why this project?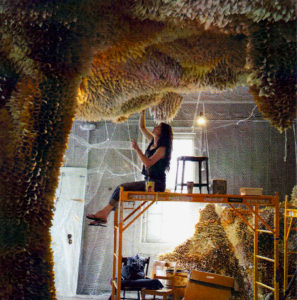 The Paper Caves reflects her passion for the intimate detail in nature that we encounter regularly but often fail to acknowledge — the intricate objects like nests, anthills, spider webs, feathers and so much more.  She draws on related natural forms and exhibits them on an immersive human scale.
The Paper Cave is on view at basin and main, 564 Main Street in Honesdale through November 30, Saturday's 1p – 4p and by appointment or chance.  Don't miss it!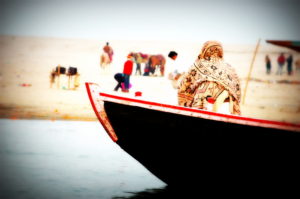 I will be exhibiting, India Inspired, at Roots Yoga, November 3-12. Opening reception is Friday, November 3rd at 6pm, Main Street in Hawley. Photographs – reflecting the amazing color, texture and people of India.  For more information contact Laurie@LAGuzda.com
PS: On our way to visit the Paper Caves with friends, we passed and stopped at the Dorflinger Glass Worker Factory Museum. I again encourage you to visit this meticulously curated museum that educates, engages and thoroughly entertains.
Follow us on Instagram @PoconoSecrets and on Facebook @PocoPike
Visit www.LAGuzda.com  or  www.PoconoSecrets.com for past articles.  Do you have a Pocono Secret to share? Send an email to: PoconoSecrets@aol.com