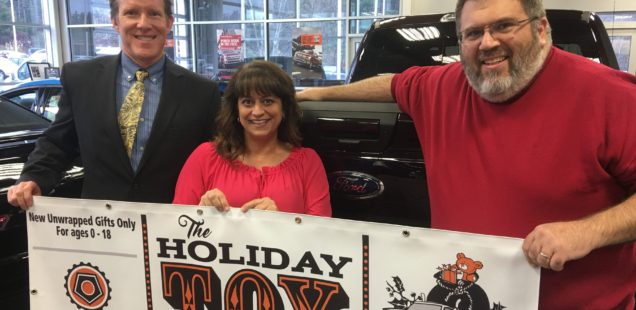 The Holiday Toy Drive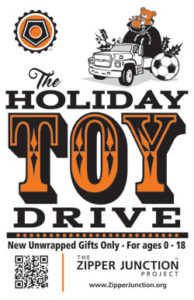 This year THE HOLIDAY TOY DRIVE is brought to you by The Zipper Junction Project™ in partnership with "The Wayne County Ford & Bold Gold Media Holiday Toy Drive Challenge". THE HOLIDAY TOY DRIVE replaces a previous toy drive and has the support of both Wayne and Pike officials, businesses, school districts, other toy drives and the community. This program strives to ensure that each and every one of the three thousand plus children previously supported by past efforts in Wayne and Pike Counties is served by this local community effort.
"Hosting a holiday toy drive fills a void to bring happiness to those less fortunate, and our goal is to provide gifts to as many children as we can", said Jim Zumpone, Chief Visionary and Founder of The Zipper Junction Project™.
The Zipper Junction Project™ needs the help of many volunteers to Leverage Skills to successfully accomplish this huge event. Igniting Passions in people, within our community, is the kind of thinking needed to ensure we are Building Futures that are happy, meaningful, bright and positive for our kids AND our communities.
If you are interested in applying for toys, volunteering, partnering to include Toy and Gift Collection Boxes at your Fundraising Event, or if you wish to make a monetary donation, please visit www.ZipperJunction.org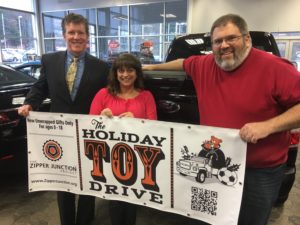 Look for the boxes with THE HOLIDAY TOY DRIVE logo. Together, let's all make a difference in the lives of our community's children!
About The Zipper Junction Project™
The ZIPPER JUNCTION Project™ is a local non-profit organization made up of a very unique and diverse group of individuals who are driven by the common belief that we can do better as a community through hands on experiences, project based learning and physical activities. We are driven to bring a place called ZIPPER JUNCTION™ to life. When a society has people focusing their efforts on tasks that they are truly passionate about, while simultaneously attaining, at minimum, a sustainable living wage, many of the socio-economic problems currently being faced would disappear over time. Helping someone discover their passion in life is the single most important thing, and this is to be supported and cultivated.
Follow us on Instagram @PoconoSecrets and on Facebook @PocoPike
Visit www.LAGuzda.com  or  www.PoconoSecrets.com for past articles.  Do you have a Pocono Secret to share? Send an email to: PoconoSecrets@aol.com