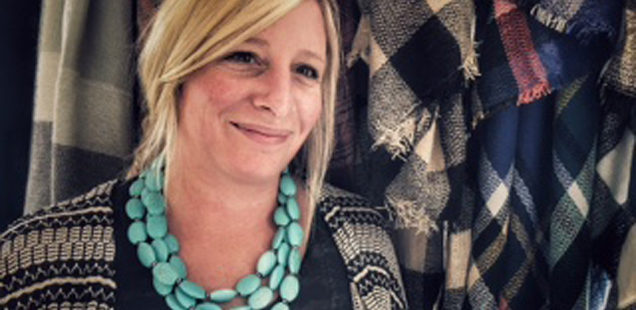 Why Big Box won't ever replace Shopping Local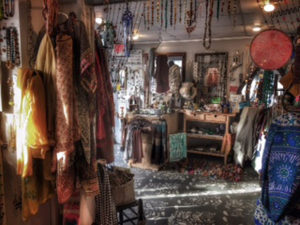 It was a Sunday and I needed a special thank you gift for a friend. I drove to Honesdale to one of my favorite stores, Milkweed. Although most local shops are closed on Sundays, I instinctively knew Milkweed would be open. Why? Because they are more than a store, it's a lifestyle and a reflection of who they are. And, in a tourist destination, how can you not be open on a Sunday?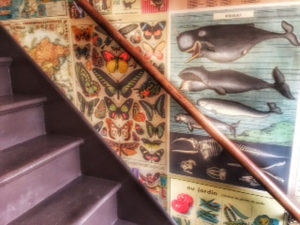 Milkweed's owner, Bill Anton, has impeccable taste which is evident throughout the store offerings.  I was looking for space themed socks. And wouldn't you know that Bill recommended the grooviest "Space Dyed Socklings" – no two pair alike, they were soft cushy and the perfect gift for my friend.
They have recently renovated two rooms upstairs. One is filled with goodies all at 40% off!  They cleverly lined the stairway with the gift wrapping papers they offer. They papers are retro, classic and unique and now easily displayed as you make your way up the stairs in this classic historic building.
As I left and began making my way to my car, I notice the Velvet Maple across the street. For some reason I had thought they were located in Calicoon but I was wrong and here they were, so I entered.  We had connected on Instagram and I loved the postings of their inventory. I was not disappointed.  Groovy is the best way I can describe it. I love these old buildings being given a new life with quality and unique items. I would liken it to Basin and Main.
Basin and Main is a creative pop-up store that offers a great selection but also provides events and entertainment. Cool stuff you would normally have to drive to Brooklyn for is available in your own backyard.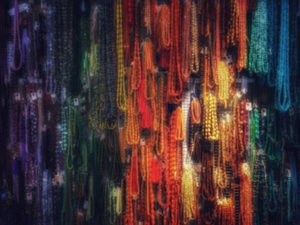 Wallflower is another great "go-to" store for unique and interesting gifts and clothing.  I'm sure there are many more stores worth mentioning but I haven't had the privilege to enjoy them yet.
As I was leaving The Velvet Maple to cross the street to my car, I passed Bloom. I had seen the signs advertising jewelry for $5.00. I have to confess that I thought to myself, how good could it be? Something made me stop and go in since I was walking right past the front door. I couldn't have been more surprised.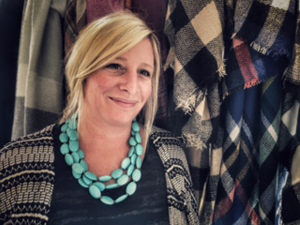 The sweet space is tastefully decorated and chock full of beautiful jewelry, scarves and gifts. I was greeted by Katie Corey who manages the store. She is a bright, beautiful spirit that greeted me warmly. She asked if I had been there before and was I familiar with The Portable Playhouse. What?
The Portable Playhouse is a non-profit organization that was created by Katie's mom, Marianne Corey over ten years ago. They have another store in Forest City and all proceeds go to supporting an arts / beading program for women and children in hospitals and cancer out-patient facilities all along the eastern United States from Massachusetts to Florida.  They have been nationally recognized for their contributions. And, here in a little corner store in Honesdale, open on a Sunday, is a noble business. I am so glad that I walked into that store that Sunday. Now, I know the first place to go when I need a gift for someone special.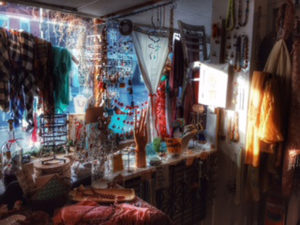 You can learn more about The Portable Playhouse by visiting www.ThePortablePlayhouse.org. You can donate or volunteer.
We are so fortunate to have some pretty amazing local offerings. If you are able to spend a little more or you enjoy finding interesting and unique items – support these local shops. Most feature local artist and businesses. My space socks were manufactured locally, and they are out of this world!